Press Release: Red Phenolic Lining Change
Our supplier has notified us of a change to the red iron oxide pigment used in our red phenolic lining.
They are unable to get any of this pigment due to market conditions that we are all experiencing right now. The new pigment is still the same iron oxide but just a different shade. The iron oxide pigmentation change is strictly a change in the tone of the pigment.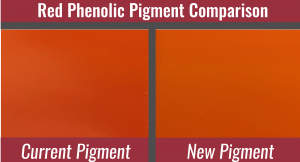 The pigment still has the same CAS# and will perform the same as the iron oxide is just an inert pigment in the film. The change will happen at some point in the near future as we work through our current inventory of red phenolic lining.
It is unknown at this point if or when the change may revert back to the original pigment should it become available.
---
For questions on our steel pail quality, please contact Daniel Roether, Vice-President of Sales, here.
For technical questions on the Red Phenolic Lining Change itself, please contact Will Parish, Director of Regulatory, here