Thank you for being so interested in CSC University! We are excited to offer you a FREE crash course on everything you need about steel pails.
Please complete the form below to formalize your request to participate in this free training seminar. Seats are first come, first served.
Are you looking to receive training about steel pails or provide training to your employees?
Do you need help learning about the differences between steel pail designs, coatings, gauges, and everything else there is to know about steel pails?
You're in luck!
Cleveland Steel Container is hosting its first-ever steel pail-centered training seminar exclusively for distributors, titled Cleveland Steel Container University!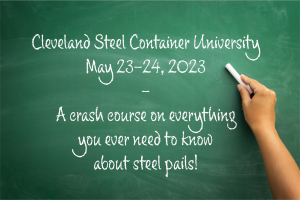 This training seminar is perfect for:

Outside Sales Managers
Inside Sales Representatives
Purchasing Agents
Supply Chain Analysts
​​​​​​​And More!
---
What to Expect at the Training:
Attendees can expect a FREE jam-packed two-day event filled with classroom and on-site training seminars. All you have to do is pay for your flight and transportation to the hotel.
There will be printed handouts provided along with visual aids to help attendees learn everything there is to know about steel pails.
It will be two full days, one day in our brand new Corporate office training center and a second-day split between our Streetsboro Tech Center and our Niles Steel Pail Plant.
Attendees will be provided transportation to and from the CSC training seminar in Streetsboro and Niles, Ohio (attendees must provide their initial rides to the hotel).
What's expected of the CSC University Trainers?
Your trainers will comprise several sales, operations, and tech personnel that are incredibly knowledgeable on steel pails. Together our CSC University faculty has over 100 years of steel pail knowledge!
We're just happy you're joining us!
We don't expect you to be an expert on steel pails (yet!), but we expect all our attendees to be invested in learning more about steel pails and how best to sell or utilize them in the future.
Just bring yourself!
A laptop and notebook are recommended but not required.
Training Date: May 23-24, 2023
May 22 – Attendees arrive in Cleveland, Ohio
May 23 – All Day Training Seminar at CSC Corporate Office (100 Executive Pkwy, Hudson, OH 44237)
May 24 – Streetsboro Stamping Center and Niles Pail Plant Tours/Training Seminar
May 25 – Attendees depart Cleveland, Ohio
We are encouraging all attendees to stay at the Hilton Garden Inn Cleveland/Twinsburg (8971 Wilcox Dr. I, 480 OH-82, Twinsburg, OH 44087) where we have negotiated a discounted rate. We will also provide transportation from this hotel to all training seminar free of charge.