Press Release: Peotone Awarded ISO 9001:2015 Standard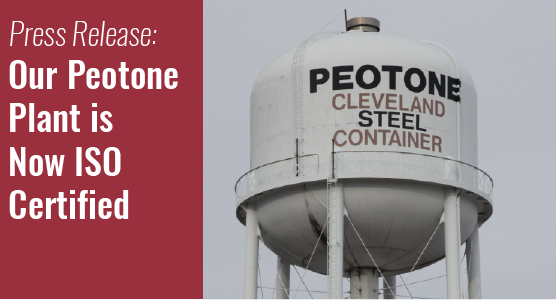 Cleveland Steel Container Corporation, an Employee Owned Company which manufactures steel pails used in the transport of hazardous and nonhazardous materials, proudly announces their Quality Management System has been certified under ISO 9001:2015 requirements at their Peotone, Illinois manufacturing facility.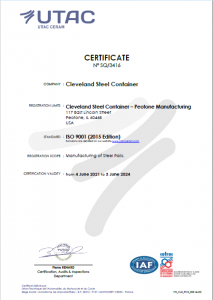 The International Organization for Standardization (ISO) 9001:2015 Quality Management System Standard is the most universally accepted standard.
Having an ISO 9001:2015 Standard now at Peotone proves that we consistently provide products and services that meet customer and regulatory requirements and that we always aim to enhance customer satisfaction through the effective application of the Quality Management System, including processes for improvement of the System.
The Standard confirms our commitment to risk-based thinking and accountability throughout all organizational processes that help improve communications, efficiency, and implementation of continuous improvement.
"We are excited to announce our certification to ISO 9001:2015 at our Peotone plant and the assurances to our customers that we strive to focus on continuous improvement and customer satisfaction," said Daniel Roether, Vice-President of Sales. "Our certification to ISO 9001:2008 demonstrates our desire to always perform at the highest levels of quality and efficiency. It's rooted in our DNA by our long-term commitment to "Make good pails and deliver them on time."
With Peotone and Niles completed, these are the next pail plants set to be certified:
All four of our pail plants are set to be ISO 9001:2015 certified by the end of 2021!
---
For questions on how ISO demonstrates our steel pail quality, please contact Daniel Roether, Vice-President of Sales here.
For questions on the ISO quality process itself, please contact Will Parish, Director of Regulatory, here