7 Steel Industry Current Events As Of Q3 2021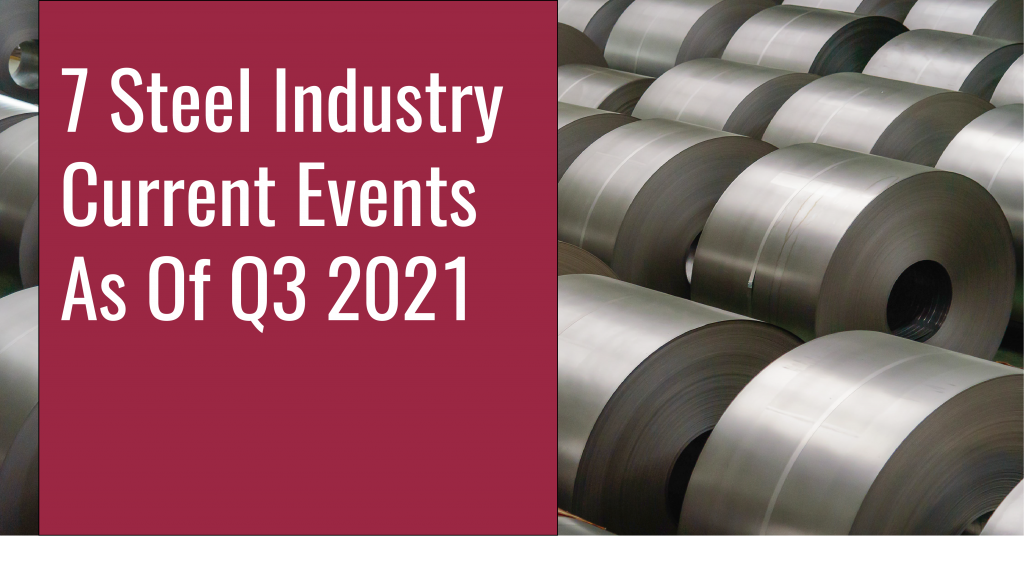 We wanted to quickly update you on 7 events within the steel industry that are impacting your steel pails:
Below we explain these 7 market events a little more; however, I advise you to subscribe to Steel Market Update to get all the latest steel industry news.
---
Steel Prices May Have Peaked (Or Are Close To)

After conducting a poll of steel buyers throughout the United States, it appears that about 37% of them said steel prices either already peaked or peaked in Q3 2021. This is excellent news, as prices for cold-rolled steel are around $2,000 a ton as of writing this email.
Steel Mill Availability Sees Big Improvements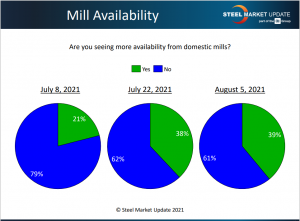 Just about everyone seems to need steel right now, but luckily it appears that availability is starting to increase. Almost 20% more steel buyers said they saw more domestic steel availability in August 2021 compared to July 2021 — I highly suggest reading more about steel availability and lead times on Steel Market Update
The YTD Steel Supply Looks Optimistic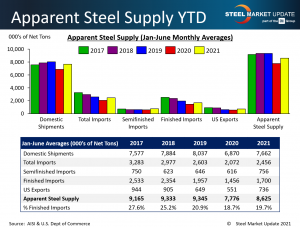 Take a look at the steel supply this year compared to the past 4 years. It's looking like shipments and the overall supply are getting better, which is great news for all of us!
Increased Capacity & Imports Are On The Way

About half of the steel buyers polled by Steel Market Update either think or are at least unsure if imports and domestic capacity will  positively impact steel prices. We haven't seen this level of optimism for such a significant industry component in quite a while.
Infrastructure Could Increase Demand By 3%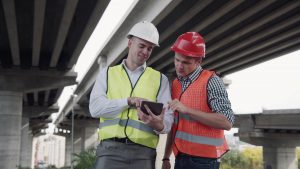 If the $1 trillion bipartisan infrastructure bill is signed into law, it's expected to add around 3.0 million more tons to the steel demand for the next 5 years. If capacity or mill utilization don't pick up by then, expect it to become even harder to get steel on-time.
Cold Rolled Steel Breaks $2,000 A Ton
​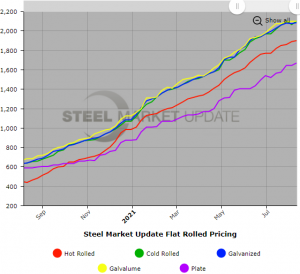 We never thought we would see cold rolled steel this expensive – yet here we are now. Above we outlined how a large amount of buyers feel steel prices have peaked. Yet still being at $2,000 a ton hurts everyone.
Utilization Rates Increase to 83%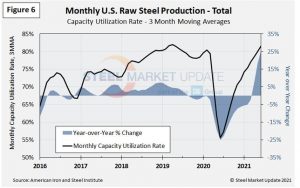 It's always good to see mill capacity utilization rates increasing, and June 2021 was up to 83%. That's a significant increase compared to June 2020, which was only at 55.6% capacity utilization.
​​​​​​
---
So what does this all mean for your steel pails?
The good news for you as we work through Q3 2021 is that several aspects within the steel industry are finally starting to look optimistic. While we are still facing major issues involving steel mill lead times and prices, we at least have some overall good news to share.
If you have any questions about an upcoming pail order, please contact your sales manager!